---
For the latest at St. Anne's: June 2018 Newsletter
We have some new dance classes at St. Anne's.  Check them out!:  Dance Classes at St. Anne's
The Strawberry Festival is June 16th!  For more info, check out our Facebook event by clicking here.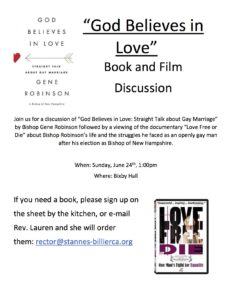 Our Mission Statement:
St. Anne's seeks to be led by the spirit to understand God's purpose for the world with our mission being to respond through Christ in worship, education, fellowship and service. Amen.
Our origins:
Our parish began in 1879 when parishioners of St. Anne's Lowell, who lived in Billerica, started meeting in homes as the St. Alban's Guild for men, and the St. Elizabeth's guild for women. A church was built and consecrated in 1890 and remained a mission church until 1959. St. Anne's continues to be rooted in the Episcopal tradition, welcoming all people and expressing that diversity in a variety of experiences